Another year has been and gone and we're back to the month of June where we celebrate Pride. It's sort of like Christmas for those Queer people who do acknowledge its significance. The truth is
 

Pride means many things for different people in the LGBTQ+ community and for us it's a time to acknowledge how far we've come and raise awareness for those under represented members of our community. During Pride, we also find the time to educate ourselves in aspects of our community and history to connect with those that came before us. 
Why is Pride important to AHLT? 
The world has undergone many challenges in recent years but that does not diminish the importance of celebrating who are, no matter how you may identify - if anything, it encourages us to do so more fiercely than before!
You might be familiar with our focus on LGBTQ+ initiatives before, earlier this year we shared our 12 notable figures to celebrate during LGBTQ+ History Month, support for the London LGBTQ centre and our previous Pride Learning & Loving blog post.
This year we're sharing how we've incorporated our passion for raising awareness of LGBTQ+ equality into a new range and the other initiatives we've been a part of to celebrate the diversity of our community. 
How we've acknowledged Pride as a business
As a small business we look to keep things real and showcase as much of who we are to connect with our customers and audiences - Pride and LGBTQ+ awareness initiatives should always go further than updating your logo or social media icons.
Outside of AHLT we aspire to get involved with our community supporting LGBTQ+ charity initiatives, such as taking part in events at the LGBTQ Centre earlier this year to speaking on panels around our lived experiences being queer. 
On the note of design, from a brand perspective we are known for our paired back, monochromatic look. This is an extension of the inspiration of A House Like This, our home itself which you can check out on our Instagram account @ahouselikethis. 
This month we were very proud to inject a little of our queer owned business history and passion into our redesigned wax melt product with the introduction of our Wax Melt Bars.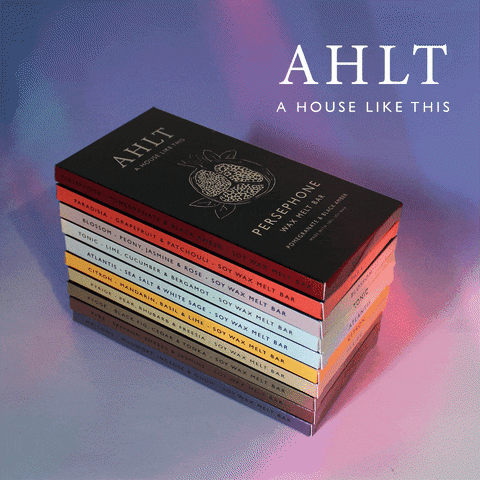 The new range consists of highly fragranced 100% natural soy wax melt bars that boast the same powerful scent of the previous incarnation but with an even more eco-friendly design.
James, our Co Founder and Creative Director brought each blend to life with hand drawn designs that embody each blend from the AHLT Scent Library (read this article for more info on how layer our scents together). This was the first collection from AHLT to capture a colour palette outside of our monochrome style with each spine of our recyclable Wax Melt Bar packages proudly sporting a colour that best represents the delicious scents inside. The design intention behind these was to celebrate the individuality of each member of our fragrance family and showcase how they come together to form something beautiful. All 12 Scent Library blends form a collection of colourful "books" when displayed together - a small way to celebrate the colourful aspects of who we are through interior styling too. 
When we're not working or spreading awareness during Pride Month we love to come together with our queer friends, our chosen family that we adore, and mark the occasion with a visit to Pride In London - this years London Pride takes place on Saturday 2nd July.
How to be an ally this Pride Month
As with any initiative that celebrates those in under represented groups showing up in small ways during a time of awareness and celebration is key. Our customers and audience are also a colourful bunch, so whether you're a Mother trying to find out how to encourage your child to live as their authentic self or a friend of LGBTQ+ person and unsure on how to support them here's 10 helpful resources you might benefit from : 
Whilst we can share and speak from our own lived experiences, everyone has a journey of their own. Take the time this Pride Month to invest in your education on LGBTQ+ matters, show up for your friends or family members and remember that even the smallest actions and gestures make a big difference to LGBTQ+ peoples lives. 
All our love, James & Ky
0 comments